Linda
Harden Pirrone writes:
"I have been searching for an elusive g-grandfather. His name was Jacob Harden, born PA ca. 1847, died in 1930. All information about him is apparently lost and I cannot document anything of him... Jacob was supposed to have been born in Bedford Co."
"I have found one lone picture of him and one of his homeplace. I have
attached the picture of the homeplace. I hope someone can identify it."
The Jacob Harden Homeplace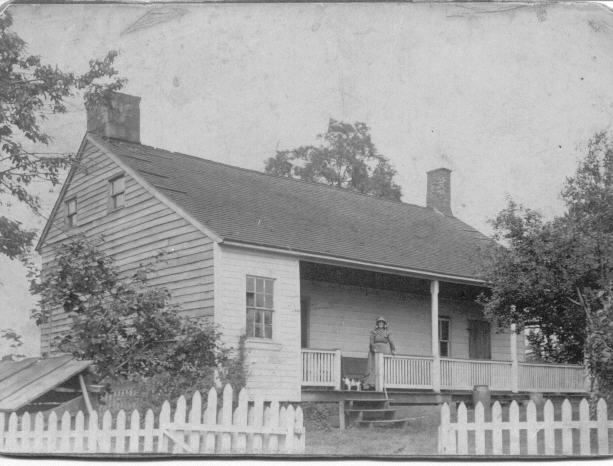 Writing on the back of the picture states - "Grandpa Harden's home place:
Aunt Belle and Uncle Ike live here. Mom's aunt & uncle live here, never
was married."
"Quaint, but that is what it says. Then, in another hand writing, other than the
above, it says... 'Little Washington'. But then I was told Bedford Co."
_____________________________________________________
"Jacob Harden married Emiline Middleton in 1881 from Allegany County Md.
Emiline Middleton was the daughter of Joel Middleton & Sarah Thornburg. Jacob and
Emi1ine had 4 children survive. Benjamin, Lee, Mary Rose and Frances P."

"Jacob was not well liked by his daughter, Mary Rose Harden McCoy.
When he died she was the only one that owned a burial plot and made it
available to her father only under the following conditions :
That Jacob be buried in a shroud, have no flowers sent,

no death notice in the paper, Jacob's death certificate states,

'father & mother unknown', and no marker ever be placed on his grave.

If these conditions were not met she would not pay for his burial

or use her family's plot..... Therefore there has been very little

in the way of a paper trail for this man..... "
Who was Jacob Harden?
_____________________________________________________
Jacob and Emiline Middleton Harden
_____________________________________________________
"I did have a clue once. There is a Jacob Harden listed in the 1850
census for Somerset county, having been born in 1847. I thought I had hit
pay dirt. Well, the source was cross - referenced from the LDS and I sent
for it many times before I finally found the actual source was the
Methodist Reformed church in Wellersburg, PA. "
"I went up there and lo and behold the church had a little cemetery on
the side and there was the grave of one Jacob Harden who died in 1851 as
a 4 year old child. My research and time went out the window.
Sometimes I think that is exactly where this man's identity came from,
THAT TOMBSTONE. And the man below is actually unknown to us all.....
except for the homeplace picture that does indicate a brother named IKE.
What is that a nickname for???????? Who knows......"
_____________________________________________________
Don't you love a good mystery? I suspect that Linda doesn't think it's a "good" mystery at this point, but perhaps she has assembled enough clues that someone can provide information or some new leads that might help solve this. For additional information, or if you may have some helpful suggestions, please contact
Linda Harden Pirrone at - soulmate@sunline.net
_____________________________________________________
next page

_____________________________________________________
If you have something you would like to submit for posting on this page, please contact - clabaugh@richnet.net
Copyright © 1999 Tom Clabaugh