TEACHERS??

---

The following picture will hopefully be helpful to the viewer. Most of the people in this picture have

been identified, and many have names familiar to Bedford County researchers, however there

are a still a few questions - -

(Back Row)

Zella Rose / Deaner - - - - Minnie Cooper / Clabaugh - - - - ??? Miller - - - - Caroline Blackburn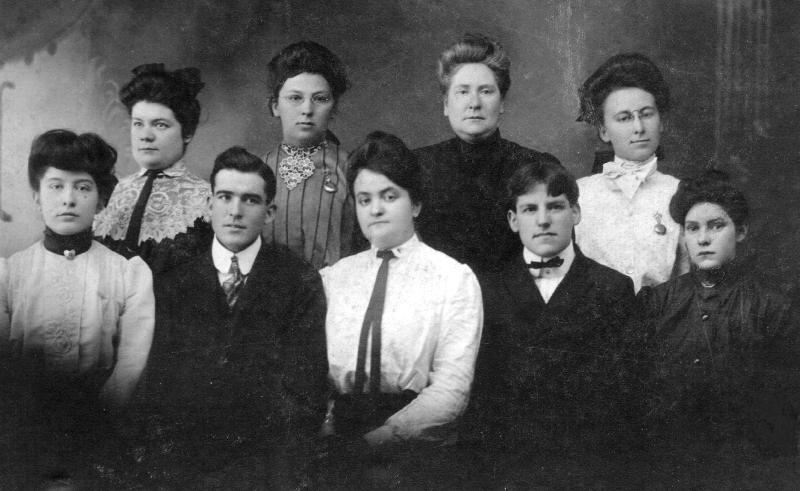 Etta McFerren / Stair - - - Cortez Werstling - - - Nettie Claycomb - - - ? ? Snyder - - - May Stern
This picture was kept by my grandmother Minnie Cooper / Clabaugh (born 1885 - died 1965). She was a teacher and she taught for at least one year at the Robinsonville School. My guess is that this picture was taken about 1903 - 1905.
I know that at least two others in this picture were school teachers. Is this a picture of all the teachers in a Twp. for a given year? Or is it more likely, since all appear to be about the same age, a graduating class for school teachers?
Can anyone further identify Miss Miller and Mr. Snyder?
While I'm certainly hoping to find further information about these people, I'm also hoping that someone will examine this picture and identify an ancestor in a picture they've never seen before.

_____________________________________________________________________________________________

Nov 10, 1999

Bob Rose has supplied additional information on Zella Rose in the above picture. Zella was a grand-daughter of Henry B. Rose (1815-1895) and Talitha Ash / Rose (1818-1889). Her parents were Emanuel Rose (1849-1924) and Laura Wertz / Rose (1855-1912). Zella Rose was born April 8, 1880, married H. H. Deaner. She died Feb. 17, 1955.

He also sent some comments on Etta McFerren / Stair ""Etta McFerren would have
been a niece to my Great Grandmother Hanna McFerren who married George Rose".

Etta McFerren's paternal grandparents were: John McFerren (1816-1895) and Cisson Heming (1819-1901). Her parents were: James Polk McFerren (1842-1930) and Martha Wertz (1846-1941). James Polk McFerren was one of Hanna McFerren older brothers. Etta McFerren was born May 02, 1886, she married Louis H. Stair. Etta died October 16, 1969 in Cumberland, MD.

__________________________________________________________________

Bob Rose has also supplied the William Rose (1710 - 1790) Family Lineage.

Bob can be contacted at : BobR3487@aol.com


---
If you have information or comments about these pictures, or if you have pictures that you would like to submit for posting on this page, please contact -
clabaugh@richnet.net
Copyright © 1999, 2000 Tom Clabaugh