Bedford County , Pennsylvania
Historical Names + Locations
Kathie Kline has submitted the following photos and facts about the Horn Church which is located near Pleasantville, in West St. Clair Twp. The church was organized in about 1820. It was named for the Horn Family who moved to the Bedford Co., Pa. area (1797-1800) from Loudoun Co., Virginia.
HORN MEMORIAL CHURCH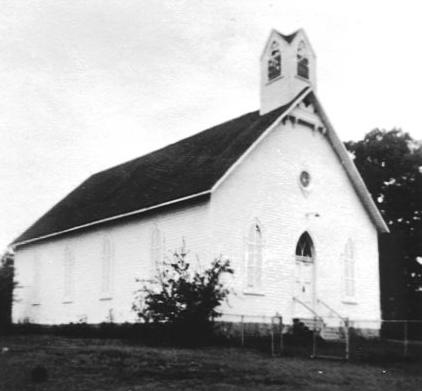 _______________________________________________________
One of the gravestones at the church cemetery reads:
"Sacred to the Memory of Elizabeth Horn
Born July the 24th 1759
Died Oct'r the 6th 1840
Aged 81 Years 2 Mons & 12 days"
________________________________________________________
Her husband Henry Horn's stone reads as follows:
"Sacred to the Memory of Henry Horn
Born Octr the 15th 1758
Died May the 8th 1845
Aged 86 Years 6 Mons & 23 days"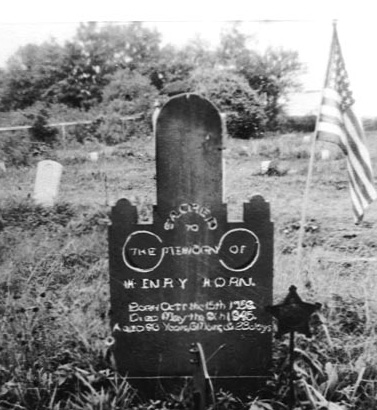 ____________________________________________________
REV. HENRY HORN - REVOLUTIONARY SOLDIER
Henry was a soldier in the American Revolutionary War.
He participated in the Battles of Trenton - Monmouth
and the Long Island Campaign.
---
Kathy tells us a bit about Heinrich "Henry" Horn and his family -
Henry Horn 1758 - 1845
There are several different versions about the arrival of Heinrich 'Henry' Horn in the United States. One version has him coming to this country to avoid the draft in Germany. Another version is that he was drafted as a Hession soldier, was captured and after being released, joined the American cause. The third story is that he came to this county with his parents (according to Howard F Horne Jr) when he was about 12 years old. They arrived at the Port of Philadelphia in 1770. They had sailed from Europe to the New World on the 'Good Ship Sally'. They moved west to York, PA and remained there until the outbreak of fighting between the British and the Colonists. None of these stories have been proven. In his pension application, he states that he came to this country when he was 16 years old. This would having him arriving in this county in 1774, so at some point in the 1770's Henry arrived here in the United States.

Henry Horn enlisted in Pulaski's Legions Troop of Horses on 27Jan1777 in Lancaster, Lancaster, PA. He served in the Troop of Horses (cavalry) because he had his own horse. Serving at Winter Quarters of Washington's Army at Valley Forge during the winter of 1777-1778, he caught pneumonia and had to stay at Valley Forge to recuperate in the spring of 1778. Upon recuperating he caught up with his Regiment in time to fight in the Battle of Monmouth, New Jersey in June 1778. Next, he was involved in the Battle of Long Island. They were attacked by the British one night while at Long Island as they camped about a barn. Henry heard the British and leaped a fence to which they had fastened their horses and gave the alarm to the General. During this battle several of the infantry and a number of privates were killed. In the morning the troop followed the enemy and drove them back to their vessels. He then fought in the numerous battles that took place in southeastern part of the country. He was wounded at Georgetown, South Carolina. After recovering from his wound, he made his way north to Loudoun County, VA, where he enlisted in the Troop of Horses in the 4th VA Regiment under the command of Captain John Stith. He served in the Regiment for the duration of the Revolutionary War. Since this unit was very mobile, having horses, they were used mainly as spies. They could travel fast and locate the enemy and return with the information within a short time span. The original term of his enlistment was for one year. He received a discharge at that time from Col. Kowatsh. But Gen. Pulaski offered him a position of Captain and he remained for 2 more months. Altogether he served for 14 months.

Following the war, Henry returned to Loudoun County, VA where he met and married Elizabeth Pretsman. He is listed in the tax records for 1788 and 1789 in Loudoun Co, VA. He is listed in the estate settlement of Martin Steffel in Loudoun Co, VA in 1789 with whom he had an open account. On 15Aug1792, Henry and Elizabeth Pretsman Horn purchased a farm from the Honourable Henry Ashley Bennett of Great Britain for the sum of 231 pounds sterling 17 shillings and 6 pence plus interest. At the time the farm was purchased it was agreed that Henry Horn would pay for the property in installments. The payments were 38 pounds 12 shilling 11 pence in August and February of each year until the balance was paid.

Henry was a devout member of the German Reformed Church but there wasn't such a church close to where they were living. Henry and Elizabeth attended a Methodist Church Meeting in Leesburg, Loudoun, Virginia to hear Bishop Asbury preach. Henry was so impressed that he decided to become a Methodist minister. He was ordained at the Baltimore Conference and Bishop Asbury sent him to western PA to become a circuit rider.
Henry and Elizabeth sold their farm in Loudoun County, VA and moved their family to Bedford County, PA. They purchased land that they could farm in West St. Clair Township, Bedford, PA. The first meetings were held in his home and in the homes of his neighbors. There are several interesting stories told about his circuit riding days. One such story is that he was coming home from a church meeting when it began to snow. Before he arrived home, the drifts were up to the body of the horse and he could bearly get through. One other time as he was riding on a trail, there were no roads, when he heard a wild cat roar nearby. He decided to contine on home and luckily didn't encounter the cat. In the summers, he held a camp meeting in the wood at the site where the Horn Church now stands.
During his ministry, Henry traveled as far as the village of Johnstown to preach the Gospel. The church that is today know as the Horn Church was built by Henry's son Andrew in 1920. Andrew was also a minister. The church is still in use today.

Henry and Elizabeth had 8 children; Catherine b-24Feb1784 married William Anderson, Eckhart b-22Apr1786 married Sarah 'Sally' Garretson and Margaret (Lybarger) Cruseberg, Henry Horn b-15May1788 married Susanna Hull, John b-13Mar1790 married Catherine Otto and when she died he married her cousin Catherine Otto, Daniel b-28Jun1792 married Catherine Hull and Susanna Hoyer, Andrew b-17Oct1794 married Elizabeth Tipton, Frederick P b-11Nov1796 married Hepzibah Clark and Elizabeth b-18May1801 married John Moorehead. All of these children were born in Loudon, VA except for Elizabeth who was born in Bedford, PA. In 1832 Henry applied for a Revolutionary War pension and was awarded a pension based upon his 14 months service during the American Revolution. Henry was awarded a pension of $50 per year starting the 4th of March 1831. In the cemetery adjacent to the Horn Church are the graves of Henry and his wife Elizabeth. There are also several of their relatives buried in the same cemetery. The church and the cemetery are located near Pleasantville, Bedford, PA. It is a beautiful area out in the country, surrounded by trees.
Kathy Kline kkline@trib.com
---

Thank you Kathy for your description of this special location in Bedford Co., Pa. and it's association with one of St. Clair Twp.'s Pioneer families. It's one of the many places that I've not yet visited. Now I certainly will, the next time I'm in the area.

---

ADDITIONAL HORN(E) INFORMATION - (DEC 11, 1999)

Howard Horne Writes:

I have been searching for information concerning Salome (Lonnie) Dennison
who was born in Bedford County, I know not when or where. She married William
F. Horne and she died in Schellsburg, PA in 1938. William F. Horne was a
descendant of the Rev. Henry Horne of the Horne Church. Any information
about her would be appreciated.


Howard F. Horne, President General
National Society of the Sons of the American Revolution
e mail address: hornehowi@aol.com

---

Kathie replies: (Dec. 14, 1999)

I am attaching a copy of the obituary for Lonnie Dennison that I found one time when I was at the

library in Salt Lake. It is in a book by Archie Claar. He evidently cut obituarys out of newspapers for

the Bedford, Somerset, and Cambria area from 1937 to 1945. Hope that this is of some help to you.

Submitted by - Kathie Kline kkline@trib.com

If you have something you would like to submit for posting on this page, please contact -
clabaugh@richnet.net
Copyright © 1999 Tom Clabaugh